Accommodation in Tobago
Let's set sail on a journey together. Imagine an exotic island located in the southern Caribbean. Welcome to the beautiful island of Tobago, a stunning jewel in the Caribbean!
Tobago is a lesser-known paradise filled with gray and white sandy beaches, turquoise water, exciting water sports, remarkable wildlife, and warm, hospitable people.
To complete the stunning array of attributes is the variety of accommodation in Tobago.
Enchantment To Your Tobago Experience
This island offers something incredible for everyone, especially for those keen on exploring new places at affordable prices. This idyllic place also boasts lush natural reserves, and an exuberant local culture that makes a vacation here an enchanting experience.
If you're looking for a holiday with a perfect mix of relaxation, adventure, and authenticity, then Tobago is the place.

One of the crucial considerations when visiting Tobago, or any destination for that matter, is accommodation. It can greatly influence your holiday experience and, of course, the travel budget.
Whether you're a luxury seeker or a budget traveler, Tobago has a variety of living options that will cater to your needs. Now, to make the most of your island experience, it's essential to find suitable accommodation in Tobago.
Below is this beautiful 3 Bedroom Apartment Rental in In Mary's Hill is Western Tobago.
3 Bedroom Apartment Rental in Mary's Hill, Western Tobago - Great value for money - Your perfect getaway in western Tobago!
Click here to Check availability and price of this 3 Bedroom Apartment Rental in Mary's Hill Tobago for an affordable and wonderful experience and Book on airbnb
Types of Accommodation in Tobago
If you like a touch of home while vacationing, Tobago vacation rentals narrow your search to holiday apartments, villas, or entire holiday homes. These rental options allow you to feel a home-like vibe and convenience, making your stay more comfortable and personal.

In addition to budget-friendly offers, Tobago accommodation also promises outstanding quality and convenience. From swanky hotels perched on the ocean's edge to cozy apartments nestled in the heart of bustling localities, there's something for everyone.
Apartment Vacation Rentals
When considering affordable Tobago vacation rentals, renting an apartment should be at the top of your concerns.  If you're someone who enjoys the comforts of home while taking in the exotic locale of a new place, apartment vacation rentals might just be perfect for you.

Apartment vacation rentals often come fully furnished, with kitchen facilities and private spaces allowing you to unwind at your own pace. They provide more freedom, and often, a more authentic experience while staying in Tobago.
Tobago lodgings and holiday homes cater to various budgets and group sizes. Whether you're a solo adventurer, an outgoing family unit or a quiet couple looking for a romantic getaway, you'll find something that suits your needs.
Your intent is to ensure that your searches turn up lodgings that provide the best value for your money and to help you find options that fall within your budget range whilst promising a comfortable stay,

Also, look for Accommodations in Tobago that give you access to the best local experiences. From properties in close proximity to renowned beaches to those nestled within the island's lush mountains; you'll be able to choose a lodging that maximizes your Tobago experience.

It's also crucial to compare prices across different platforms. You might find the same property listed on various booking sites, for example Airbnb, each at a different rate.
Go to airbnb to See this beautiful 3 bedroom apartment rental in Mary's Hill, near the capital of Scarborough - Great value for money - Your perfect getaway in western Tobago!Click here to Check availability and price of a 3 bedroom apartment rental in Mary's Hill Tobago and Book on airbnb
Also, keep an eye out for seasonal offers and promotions. They could significantly reduce your accommodation costs without sacrificing any comfort or quality.


To sum it up simplistically, finding Tobago accommodation deals, Tobago vacation rentals, or Tobago lodging and holiday homes are helpful in finding accommodations that match your budget and provide the kind of experience you're after.
Also, if you are seeking a family-friendly Tobago accommodation or your focus is on stays ideal for families, gorgeous beaches are just a stone's throw away.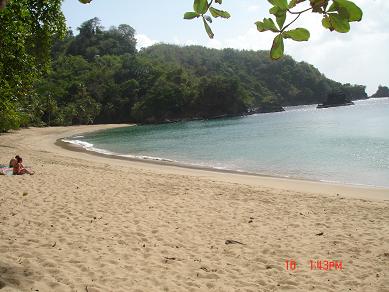 Picture above is Englishman's Bay, regarded as one on the best beaches in the Caribbean.

Now, what completes your stay is immersing yourself in the Tobagonian culture. It consists of wonderful festivals, flavorful food, vibrant music, and warm, welcoming residents. So, for Tobago authentic home stays, consider partaking in local customs and traditions.


An exceptional stay awaits you, offering the tastes and feels of Tobago life, all while maintaining the level of comfort and affordability you desire.

So, pack your bags and ready your spirits for an unforgettable Caribbean getaway to Tobago. The sun, sand, and sea are calling, and a cozy, cost-effective, and convenient accommodation awaits you, promising a travel experience like no other. Happy travels!
Home
Apartment Rental Western Tobago