Tobago Hotels Directory
Tobago Hotels
Tobago, the previously undiscovered jewel of the Caribbean is now fully exposed and stands at the pinnacle of the region for its magnificence and shining excellence.
Tobago hotels are world class and they compliment and pay tribute to the natural wonders with which this tiny Caribbean island has been blessed.
Tobago Hotels Directory

Area Code: 868
| | |
| --- | --- |
| Arthur's By The Sea, Crown Pt Tobago | 639-0196 |
| Bacolet Inn Hotel, Scarborough Tobago | 639-2531 |
| Bellevista Apartments Sandy Pt Tobago | 639-9351 |
| Blue Haven Hotel, Bacolet Bay Tobago | 660-7400 |
| Blue Horizon Resort Co Ltd, Jacamar Dr Mt Irvine Tobago | 639-0433 |
| Blue Waters Inn, Speyside Tobago | 660-2583 |
| Castlewhite Hotel and Holiday Resort, Studley Pk | 660-2905 |
| Coco Reef Hotel Crown Pt Tobago | 631-8201 |
| Conrado Beach Resort Hotel Ltd , Pigeon Pt Tobago | 639-0145 |
| Crown Point Beach Hotel, Crown Pt Tobago | 639-8781 |
| Crusoe's Holiday Apartments, 33 Store Bay Branch Rd Tobago | 639-7789 |
| Enchanted Waters Hotel, Shirvan Rd Buccoo | 639-9481 |
| Footprints Eco Resort, Culloden Bay Rd Tobago | 660-0416 |
| Golf View Apartments Ltd , Old Grange Mt Irvine | 639-0979 |
| Grafton Beach Resort, Stone Haven Bay Black Rock | 660-8469 |
| Grange Inn, Buccoo & Mt Irvine Jct Tobago | 639-9395 |
| Harbour View Guest House, Milford Rd Scarboro | 639-9404 |
| Hilton Tobago Golf & Spa Resort, Lowlands Tobago | 660-8500 |
| Hotel Cocnut Inn Ltd, Store Bay Local Rd Tobago | 639-8493 |
| James Holiday Resort Car Rentals & Tours, Crown Pt Tobago | 639-8084 |
| Jimmy's Holiday Resort, Store Bay Beach Rd Crown Pt | 639-8929 |
| Johnston Apartments, Store Bay | 639-8915 |
| Kariwak Village (Hotel), Store Bay Local Rd Crown Pt | 639-8442 |
| La Grand Courlan Resort & Spa, Black Rock Tobago | 639-9667 |
| Rainbow Resort, Crown Point Tobago | 639-9940 |
| Rovanel's Resort, Store Bay Local Rd Crown Pt | 639-9666 |
| Sanctuary Villa Resort, Grafton Estate Tobago | 639-9556 |
| Sandy Point Village, Sandy Point Beach Hotel Crown Pt | 639-8533 |
| Spence Investments & Car Rentals Ltd, Crown Point Tobago | 639-8082 |
| Speyside Inn, Windward Rd Speyside | 660-4852 |
| Stonehaven Villas, Grafton Est Black Rock | 639-0361 |
| Store Bay Holiday Resort, Store Bay Local Rd Crown Pt | 639-8810 |
| Summerland Suites, Roberts St Tobago | 631-5053 |
| Sunshine Holiday Apartments Ltd, Milford Rd Tobago | 639-7495 |
| Sunshine Holiday Apartments Ltd, Milford Rd Tobago | 639-7495 |
| Surf Side Hotel, Crown Pt Tobago | 639-9702 |
| The Humming Bird Hotel, 12B Store Bay Local Rd Bon Accord | 635-0241 |
| The Mermaid Hotel, Store Bay Local Rd Tobago | 631-5195 |
| The Palms Villa Resort, Signal Hill Old Rd Tobago | 635-1010 |
| Tobago Island Suites, Bucco & Shervan Rds Mt Irvine | 639-0979 |
| Toucan Inn & Bonkers, Crown Pt Tobago | 639-7173 |
| Tropikist Beach Hotel & Resort Ltd, Crown Pt Tobago | 639-8512 |
| Turtle Beach Hotel, Courland Bay Plymouth | 639-2636 |
| V I P Holiday Resorts, Store Bay Local Rd Crown Pt | 639-9096 |
| Villas Of Tobago Ltd, Main Rd Bon Accord | 639-9600 |
| Viola's Place, Lowlands Tobago | 639-9441 |
Tobago hotels range from the ultimate five (5) star luxury hotels and extravagant Villas to tasteful, yet cheap, Tobago hotels.
Accommodations range from exquisite luxury resorts to more affordable lodgings and accommodations.
The Tobago Hotels Directory shows the telephone numbers and addresses of all Tobago hotels , villas, quest houses and other accommodations throughout the island.
You can check rates and book directly into those hotels referenced in the hotels directory.
---
Mount Irvine Bay Hotel
Mount Irvine Bay Hotel & Golf Club is an elegant, private hideaway overlooking the Caribbean Sea.
It once boasts one of the best Golf courses in the Caribbean.
This claim has suffered over the years because of a change of ownership and the resulting neglect to the golf course.
Happily though, another change of ownership has had the vision and wherewithal to undo much of the damage done.
This property has since reclaimed much of its opulence.
Its ostentation can be experienced and enjoyed in any of its many suites and 54 superior rooms which are housed in the main building.
Additionally, it has 46 cottage rooms scattered within 16 acres of tropical gardens.
Hotel guests enjoy automatic membership in the golf club.
---
Blue Haven Hotel
This is one of the Older and more historic hotels on the island yet it has managed to stay modern and classy.
The romantic Blue Haven hotel combines the atmosphere of the old nostalgic era with modern gaiety.
In 2008, Caribbean World Magazine & TV rated it as " Caribbean's Premiere Boutique Hotel."
Situated in the island's capital, it has a most wonderful view overlooking the Atlantic Ocean.
Blue Haven Hotel has a storied history and has been the preferred Caribbean destination for many world super stars and dignitaries over the years.
In the 1950's the legendary Blue Haven was the scenery for several movies.
Here we can see Rita Hayworth and Robert Mitchum having fun on the beach during their stay at Blue Haven while shooting the movie Fire Down Below in 1957.
---
Arnos Vale Hotel
Embraced and hidden by the colorful foliage, the main hotel sits on the hillside overlooking the Caribbean Sea.
From there, different sections of the hotel occupy and merge into the gentle slopes of a 450 acre tropical paradise teeming with rare and beautiful birds.
Added to the charm of this resort are the beautifully landscaped gardens which roll gently down to a secluded, sandy beach where the pool and pool bar preside.
---
Sugar Mill Suites
Sugar Mill Suites are located at Lowlands on the Tobago Plantations Resort which is home to one of the 2 golf courses on the island.
Accommodation includes Condos, Villas, and Bungalows.
Condos
Condos are spacious 1, 2 or 3 bedrooms with breathtaking ocean views or panoramic balcony views of the spectacular 18 hole golf course.
The ground floor 2-bedroom condos also open onto the immaculately maintained gardens.
The 3-bedroom condos showcase wide, spacious balconies that look down on the gardens, the golf course, or out to the ocean.
Located in their midst are three shared swimming pools along with an access path across the golf course to the beach nearby.
Luxury Villas
3 & 4 Bed Room Luxury Villas add to the mix of luxury accommodation.
Villas are staffed with a dedicated housekeeper who provides daily cleaning services and, at an additional cost, could prepare traditional local dishes and provide babysitting services.
Bungalows
Bungalows have 2 - 4 bedrooms. Some have their own dedicated plunge pool or Jacuzzi.
Their allure includes the magnificent views which can be enjoyed on each side. On one side is the Atlantic Ocean and on the other is the golf course.
---
Coco Reef Hotel - the embodiment of class, luxury and style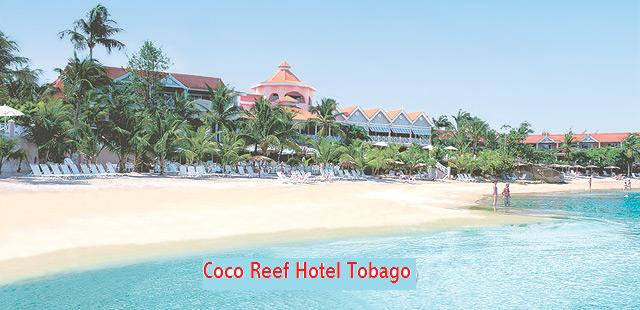 Ranked as one of the best Tobago hotels, this world class luxury hotel is the winner of World Travel Award in 2006 as Caribbean's leading hotel resort.
This tropical beauty is less than 5 minutes away from the island's Crown Point Airport, sits on ten acres of manicured tropical gardens, and opens directly on the beach.
This beach is everlastingly calm because of a barrier built to block the rushing ocean and with only a narrow inlet that lets in enough water to create what seems like a giant salt water pool.
---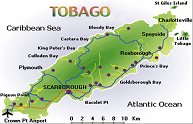 ---
Use the form below to add any comments or questions.
ENEWS & UPDATES
Sign up below to receive breaking news and other site updates!
Tobago Real Estate/ Married in Tobago/ Tobago Pictures Gallery/ Home/ Tobago house rentals/ Tobago car rentals /
---

---