Bucco Sunday School
Bucco Sunday School
Are you looking for fun things to do in Tobago on a Sunday Evening? Then "Sunday School" in Bucco is where the action is.
Sunday School in Bucco, Tobago has nothing to do with going to church on Sunday morning. Instead it is a Sunday evening hang in Bucco.
How Bucco Sunday School Got Started
Steel Pan in Bucco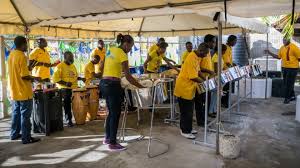 This unusually named event had its genesis several decades ago. Life in Tobago was even slower then than it is today.
During those good old days, it was difficult to find social outings, places to go, and other entertainment on Sunday evenings and Sunday nights in Tobago.
Consequently, the owner of a prominent night club in Bucco, Tobago, started to have special entertainment every Sunday night at his night club in Bucco.
The name of that night club owner was Paris. His night club was named after him - Paris. This soon became the place to go in Tobago on Sunday evenings.
Bucco Sunday School Became Really Popular
Over the years, Sunday nights' entertainment at Paris became increasingly popular.
It became so popular that Paris' Club could no longer hold all the patrons who came to Bucco to party on Sunday nights.
As a result, the overflow crowd started to hang out at the nearby beach facility.
At the beach facility, DJ music was added and later Steel Pan music. One can now enjoy live Steel Pan music and DJ at the beach facility.
Beach facility entertainment!
Sunday School in Bucco grew continuously to where it is today - a total lime both at the beach facility and Paris.
The beach facility entertainment is free except for the refreshments. It is also more casual.
There is usually a cover charge to go into Paris, however.
Even street vendors are getting into the act. They line the streets with their tents and sheds and sell their wares, eats and refreshments.
Fun Activities in Bucco at Easter
Bucco events are even bigger around Easter. Around this time of year, there are sporting events and other fun activies like goat races, crab races and water activities.
See a goat race in Bucco, Tobago!
The crowds at Bucco around Easter can get so large that the police sometimes have to restrict vehicular traffic to the area.
There is even a mini pavilion built at a nearby field to host the many fun events.
See how funny it is trying to get crabs to behave and race!
Bucco is now the place to be on Sunday evenings and on Easter weekend in Tobago.
Honeymoon Island/ Tobago Flights /
---
Interesting Site
Ecotourism in Trinidad and Tobago