Trinidad & Tobago 2010 Elections Results - A Powerful Mandate For Change
Prime Minister Elect, Mrs Kamla Persad Bissessar.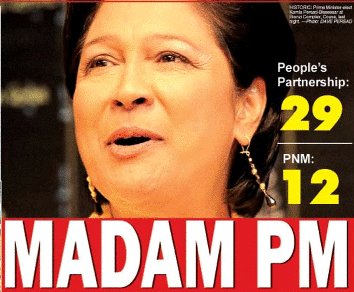 The Torch Has Been Passed!
The old guard is replaced by the nations first female Chief Executive, Mrs Kamla Persad Bissessar.
The people have given the UNC, COP, TOP coalition a resounding victory in the May 24, 2010 Trinidad and Tobago general election.
The shattering dismantling of the ruling PNM party signifies a powerful mandate for change.
The landslide victory - 29 to 12 - was as impressive an election victory as has ever been seen in Trinidad and Tobago.
This was a strong and loud statement by the people that they desire better.
Each person armed with the power of one vote held their politicians accountable thus delivering a crushing blow against the status quo.
Prime Minister Manning's Gamble And Calculation Backfired
Never in the history of general elections in TNT, has there being such a lopsided thrashing.
The snap election called by the vanquished and outgoing Prime Minister, Patrick Manning, backfired badly with a crushing defeat inflicted on his ruling PNM government.
The wisdom of calling a snap election in the face of his extremely low popularity calls into question the PM's judgement.
The only obvious observation is that arrogance can sometimes be blind and deft.
Magnanimity Displayed By The Victor On Election Night
Mrs Persad cannot be accused of anything less than been magnanimous on election night.
After entering the podium to the rhythmic but more importantly, reassuring lyrics of "Don't worry bout a thing, because every little thing go no be alright" by Bob Marley, she was inspiring and magnanimous in her victory speech.
Her clarion call could well be described as benevolent, bighearted, bountiful, charitable, and high-minded.
She pledged to be a united force for change. She said that she will not just talk the talk but will walk the walk.
She pledged that as she charts a way forward, that in her administration there will be:
Accountability and transparency

Retention of good policies

Responsible collaborative Governance

Consultation

Leadership with compassion and concern and love of a mother

There will be no UNC, no COP, no TOP, no PNM - just one people and one nation

Uphold campaign promises for change

Be your brother's and your sister's keeper - leave no one behind
The Campaign Is Over, Now The Hard Part Begins - Governance
The campaign is over, the victory speeches made, the partying done.
The Prime Minister Elect and her newly elected team must now translate campaign rhetoric to political action and governance.
Trinidad and Tobago are blessed with the natural resource of oil and with proper management can be a great regional force for good.
The nation of Trinidad and Tobago stand on the cusp of a new dawn. Good leadership could make her safer, cleaner, more progressive.
It could be done but it will not be easy. Some entrenched behavior and attitudes must be ripped up and overturned.
It is our fervent hope that the shortly to be installed Prime Minister will preside faithfully, fairly, without ill-will and without favor.
MAY GOD BLESS OUR NATION AND DIRECT ITS LEADERSHIP.
---
Top: Trinidad Tobago News/ Education in Tobago/
Bloody Bay/ Charlotteville Methodist Primary School/ Tobago Pictures Gallery/ Home/ Tobago house rentals/ Tobago car rentals /