Ecotourism - Tobago, Best Eco Resort in the Caribbean
Arriving in Ecotourism Resort Tobago
The airplane glides onto the runway at Crown Point Airport just beyond the water's edge.
You land in Tobago and walk off the plane unto the tarmac. You are welcomed by a gentle and caressing breeze.
Is Tobago Therapeutic?
The air smells fresh and clean. You naturally take some deep breaths of this unpolluted air.
Your lungs thank you. You even feel more clear headed with each breath of this pure and uncontaminated air.
All your cares just seem to melt away. You even shed the weight of any mental burden with which you have been plagued.
You suddenly feel carefree, sprightly and vivacious. Even the arthritis and body pains that were your constant companion now desert you.
You immediately sense that you are in paradise. You can't imagine that you were never here before.
Tobago - An Eco Resort
You can't help wondering if there was a giant conspiracy to keep this ecotourism island paradise veiled in mystery and secrecy.
Even at this early point, you realize that this is a special island like no other.
You are even beginning to understand how Tobago is recognized as the premier eco-resort in the Caribbean.
You can't wait to get started with your island vacation. Your are eager to explore all the pleasures this bewitchingly beautiful island has to offer.
Where are You Staying
Footprints, an Echo Resort in Tobago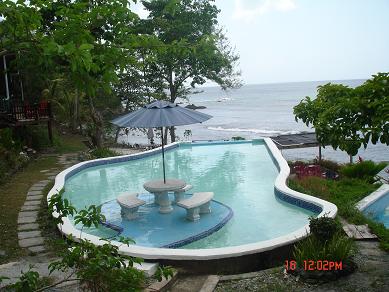 The entire island of Tobago is an eco resort. Recognized as the premier ecotourism destination in the Caribbean, the entire island can be viewed as one big tropical resort.
Consequently, where ever you stay will expose you to the island's eco benefits.
However, there are dedicated eco retreats that are more eco-centric in their accommodation, setting and activities.
Ecotourism Activities and Things to do in Tobago
So what are your plans for this promising island vacation? There is no shortage of fun things to do in Tobago.
Of the many gleeful and wondrous activities available on the island for your enjoyment and pleasure are:
Water sports: all types, e.g. diving, sailing, water skiing, fishing

Hikes in the rain forest reserve which is the oldest protected forest reserve in the western hemisphere with its more than 200 species of native birds

Just pure R&R - Rest and Relaxation: For instance

Just lazing about on the pristine beaches while

enjoying the gentle sea breeze or

having the playful waves come up just far enough to lick at your feet before retreating

Visits to the island's spectacular coral reefs: Bucco Reef is the most popular with its abundance of marine life of diverse species
Do you have an interesting story or experience about your visit to Tobago? We would be happy if you share it.
Sound of in the form below.
Have A Great Story About This Topic?
Have a story about this topic or about any thing in or about Tobago?

RAVE ABOUT IT!
ENEWS & UPDATES
Sign up below to receive breaking news and other site updates!
Trinidad Trips to Tobago/ Tobago Guest Houses / Tobago Hotels/ Tobago Real Estate/ Married in Tobago/ Tobago Pictures Gallery/ Home/ Tobago house rentals/ Tobago car rentals /
---
Interesting Site
Ecotourism in Trinidad and Tobago