Bloody Bay
The beach is pristine!
The only thing ghastly or horrible about Bloody Bay is its name!
Situated on the north coast of Tobago, legend has it that the name was derived from a particularly gruesome and fierce naval battle in the eighteenth century that was waged in these waters.
It is said that the English engaged and defeated both the Dutch and the French Fleet.
Legend also has it that the battle was so brutal and bloody that the sea turned red.
Even though that was centuries ago, it is still easy to see why so many wars were waged by the Europeans for the possession of this prized gem in the Caribbean.
This beach for all its natural beauty is set a little way from the main village, unlike most other beaches.
As such, it is nearly always deserted except for the fishermen who wait to cast their nets when the fishes are "beating".
In spite of its name, this beach is the essence of peace, beauty & tranquility.
Improvements are being done to make this beach more accessible.
A wide vehicular road is currently been built, and the construction of a huge beach facility is nearing completion.

Huge beach facility nearing completion............... Bloody Bay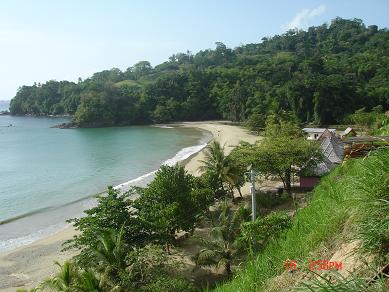 Bloody Bay
Have A Great Story About This Topic?
Have a story about this topic or about any thing in or about Tobago?

RAVE ABOUT IT!
What Other Visitors Have Said
Click below to see contributions from other visitors to this page...

Bloody bay Not rated yet
Bloody Bay is a wonderful beach to be honest and I have visited on more than one occasion due to its beauty. Not ignoring the name it was so because …
---
Top: BloodyBay
/
Tobago Pictures Gallery
/
Home
/
Tobago house rentals
/
Tobago car rentals
/

MOVING__TO_THE_LEFT - Play this podcast here.