Education in Tobago
History of education and the importance of education in Tobago
Education in Tobago strives for academic excellence and also for spiritual and moral fortitude.
The fact that Tobago enjoys an extraordinarily high literacy rate of 98% is no accident.
Great emphasis is placed not only on students' academic enrichment but also on their moral and spiritual development as well.
Qualified and dedicated teachers constantly challenge their students to excel academically even as the teachers try to instill moral and spiritual values in them.
Education and the Church
After slavery, primary education was left in the hands of the Church. Parochial schools at the primary/elementary level were run by the Anglican, Methodist, Moravian, and later the Roman Catholic churches.
The parish priest was effectively the head of all schools of his denomination in his parish.
Government's involvement in Education
It was not until the 20th century that the government got actively involved in the education of its people.
Today, there are a few totally government run primary schools, but for the most part, education in Tobago at the primary/elementary level is still managed by the Church with some Government assistance.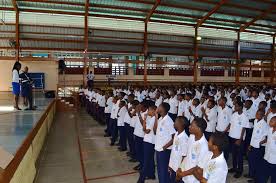 Scarborough Secondary School
However, the government is heavily involved at the high school or secondary school level. .
The Government offers free education both at the primary and the secondary school levels.
Also, for those who can get admitted to the regional university, the University of the West Indies(UWI), undergraduate education is free.
Primary Schools are shining examples of excellence
The primary schools in Tobago are exemplary in their dedication to creating well rounded students.
This dedication to the most optimal development of their students is common in all areas on the island.
This is true from the largest school in the most populated part of the island, St Andrews Anglican Primary School, to other schools in the farthest reaches of the island like Delaford EC School and Delaford RC School and even further east, Charlotteville Methodist Primary School.
St Andrews Anglican Primary School
St Andrews Anglican Primary School was built in 1990 in Calder Hall, Scarborough.
It combined and replaced two schools – the Scarborough Anglican Senior School and the Scarborough Junior School.
These schools were previously named the Scarborough Boys Anglican and the Scarborough Girls Anglican which were merged into a co-educational system in 1977.
Built to house 510 students, St Andrews Anglican Primary School is the largest primary school on the island.
In its short 19 years of existence, it has become legendary in its achievement and standard of excellence. It is one of the primary pillars of primary education in Tobago.
Staffed with a mixture of veteran and young energetic teachers, it has become the standard bearer of excellence and the school to emulate or exceed in Tobago.
Delaford RC School
In 2009, Delaford RC School had the distinction of having the highest and most passes on the island in the Common Entrance Exam or SEA -- a placement exam for entry into High School.
The Common Entrance Class at Delaford RC is taught by a fine, dedicated and upstanding young man whose love for his students can not be eclipsed. He even gives free lessens to his students even on his days off.
That degree of dedication to education in Tobago is quite common in the Primary School System.
This early foundation has proven to be of sterling value, and for many years, students from the Tobago school system have gone on to become productive men and women in all fields and spheres of life.
The moral and spiritual values instilled in students at this early stage have provided them with a foundation and a value system that have paid huge dividends.
It has also resulted in having an island with an extremely low crime rate.
Charlotteville Methodist Primary School
Another elementary school that is doing particularly exciting work is the Charlotteville Methodist Primary School.
The school is a shining example of the dedication of conscientious educators that aid children in academic enrichment and moral and spiritual development.
Brain Drain?
Although primary education in Tobago has been exemplary, and Tobago enjoys such a high literacy rate, in the past the island suffered a high degree of brain drain.
That was because after high school, to secure or attain higher education, one had to migrate.
Also, after attaining higher education, employment on the island was scarce and many people with higher educational degrees had to find employment elsewhere.
But times are changing. Tobago has shot forward! Development on the island has taken on an urgent pace.
Even though still plagued by some developmental shortcomings, Tobago is forging forward and many holders of higher academic and professional certificates and skills are returning home to Tobago to find employment or engage themselves in some entrepreneurial endeavor.
Have A Great Story About This Topic?
Have a story about this topic or about any thing in or about Tobago?

RAVE ABOUT IT!
ENEWS & UPDATES
Sign up below to receive breaking news and other site updates!
---
Top: Education in Tobago
/
Bloody Bay/ Charlotteville Methodist Primary School/ Tobago Pictures Gallery/ Home/ Tobago house rentals/ Tobago car rentals /
Interesting Sites
A Caribbean Paradise
Trinidad and Tobago Ministry of Education